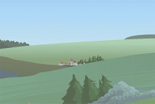 In the "Jardin des Hiboux" (owl garden) live over 80 birds of prey coming from some 40 kinds. It's a perfect place to spend the day with family.
If you come and visit us, your children will be delighted to meet the sheep, the goats, the alpacas and the many other animals on our farm.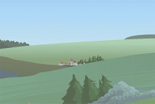 Mudia [Province of Luxembourg] [11km]
Mudia, Art in a different way. During your visit you'll discover
more than 300 original masterpieces and funny applications
giving you a complete overview of the history of art at Redu in the heart of the Belgian Ardennes.